Eligible Schools and Libraries Receive Federal Funding for Learning Technology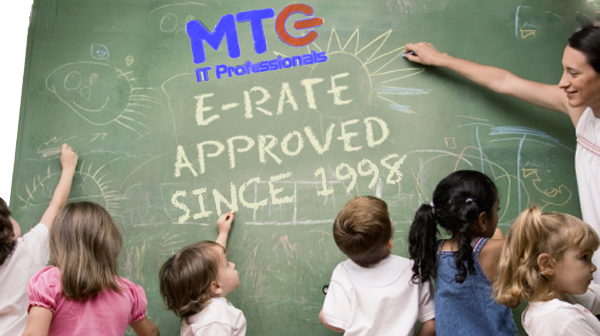 Access MTG's E-Rate Knowledge Base Below:
For an overview of the process of applying and receiving E-Rate funds click here.
To find out which services are eligible under the E-Rate Program Click Here for our comprehensive guide to fiscal year 2015.
The E-Rate program, administered by the Universal Service Administrative Company (USAC), allows eligible K-12 schools and libraries in the United States the ability to acquire affordable communication technology service and internet access. With discounts ranging from 20% to 90%, eligible schools and libraries stay current with changing technologies, upgrade their networks and more effectively prepare their students for the next level in education.
MTG IT Professionals is strategically located just outside of Philadelphia in Bensalem servicing the Educational sector in PA and NJ for its Technology needs since 1989.
As an approved E-Rate provider of over 15 years, MTG has completed hundreds of projects for schools and libraries in the United States, installing affordable state-of-the-art data and telecommunications networks. While the level of E-Rate funding varies, MTG consistently delivers the IT and communication solutions required for next-generation teaching and learning, while maximizing approved E-Rate funds.
MTG: A+ E-Rate History
Providing eRate services to K-12 schools and libraries since the program's inception in 1998
Dedicated personnel for eRate billing and quoting
No pre-payment requirement for eRate services
Insured and bonded
Successfully implemented technology and performing basic maintenance for the eRate program for customers all over the Tri-state area specializing in Windows and Apple environments.
Award winning Apple Hardware and Software warranty support using our state of the art Service center for both on and off premise repairs
Trained and Certified in Cisco, Aruba, FortiNet, HP, Lenovo, Toshiba, OKI and many other industry vendors.
One of the rare JAMF Casper certified integrators in the area for Apple machine deployments and management.
All employees maintain highest level of industry certification
All employees have undergone FBI clearances as well background checks and clearances to work in education environments.
In addition to eRate services, MTG holds various contracts in the educational sector for day to day support
MTG Technology Solutions for Education
With MTG's customized IT solutions, clients in the education sector are equipped with advanced VoIP phone systems, reliable high speed internet access, networking solutions, and data security. MTG can build the technology foundation necessary for delivering the best education possible including:
Procuring, Deployment and Management of:
Active Directory and Open Directory Servers in a mixed use environment
Microsoft Exchange and Kerio mail systems
Cloud-based solutions
Wireless for Education including multi-site WAN accessibility via wireless technology
All network topologies specializing in Cisco, HP ProCurve and 3COM networks
Content Filters for safe and secure web browsing by students and teachers
Casper Deployment and Management program
Telephony support for both Legacy and VoIP systems
Network Support for P2 services
Interactive boards and projectors including SMART, MIMIO, and Interwrite
Premise cabling for Copper and Fiber including cabling and installation of PVBX systems.
Contact MTG today to learn how eRate can provide your educational institution with state of the art telecommunications and internet technology at discounts of up to 90%.